Currently, there are two ways to generate reports: Either online, or downloadable in CSV format.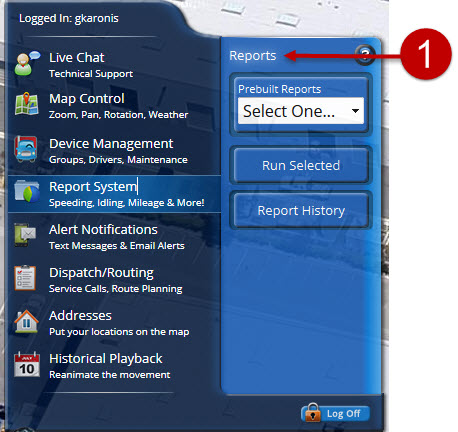 To view downloadable reports, If you do not have Microsoft Excel installed on your PC, you can always download Microsoft's free Excel Viewer to view device reports that you've downloaded.
To Run A Report:
1. Select your report from the drop-down menu in this instance, we've selected Start/Stop Report.
2. Click Run Selected.
A Window Called Start/Stop Report Options Will Appear On Screen;

3. Enter a name for your report
4. Select your device or all devices (if report allows)
5. Select the time zone you would like the report time to display
6. Enter start date and time
7. Enter end date and time
8. Enter your email address (if running a downloadable report)
9. Select start/stop criteria based on either ignition or movement
10: Enter a Minimum Stop Time value. from the drop down select Minutes, Seconds, or Hours.
11. Select View Online to instantly see results on your monitor, or download to save and view to your desktop.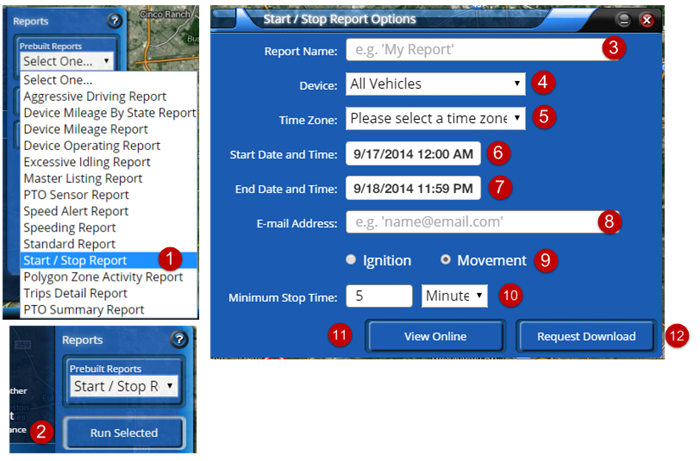 An online report will open a window like the one depicted below. You can print the report by pressing the print button.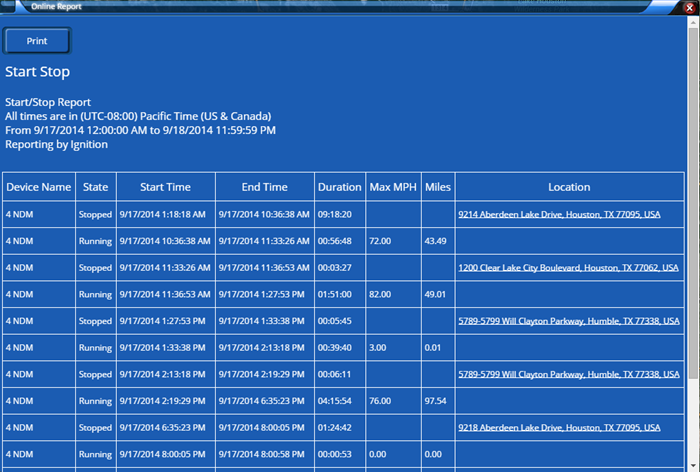 Clicking the Address in the online report - opens a seconds browser page, which will show the location on a Google Map.

If You Requested A Download Report, selecting the Report History Button Will Show You The Reports download status. Clicking the download link in the right side of the window will immediately let you save a processed report.

There are currently 14 different reports available for you to use. In the near future, we will be implementing flex and automated reporting. This will allow you to set parameters you specify and build your own custom reports, which will be sent out on a schedule you spefcify. This is scheduled for a future release date. In the interim, Custom reporting is also available for a nominal fee to cover our programmer's cost while building you a one off report.
If you have any questions regarding reports, we are here to assist, if you need help, please e-mail: support@liveviewgps.com.