Live Trac EZ Vehicle Tracking

Live Trac EZ - 4G LTE GPS OBDII Vehicle Tracker
$29.95 month, No Contracts.
Use in passenger vehicles or light duty trucks built after 1996.
Internal Battery Backup - Alerts On Disconnect
Application: Business Vehicle Tracking/Personal
Platform: Live Trac. Updates at 5, 10 second intervals.
Network: ATT 4G LTE (B2/B4/B12)
It's Called The Live Trac EZ For A Reason!
The EZ GPS tracker installs in seconds. Ultra-fast location updates with 10 second tracking.
What Is An OBD-II Port?
The On Board Diagnostic Port, better known as the OBD-II port is found on most passenger cars and trucks built after 1996. The port was designed to help technicians diagnose and troubleshoot vehicle problems. The OBDII port is typically located somewhere on the driver's side of the vehicle under the dash.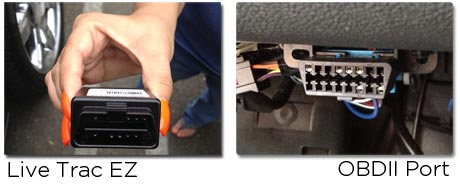 Plug-In & Track
It's as easy as that. Once you find the OBD-II port - simply plug the EZ in and you're done.
For Business Or Personal Use
Internet Based Vehicle Tracking From Your Desktop!
Track From ANY mobile device with a web browser!
Or, even from optional iPhone and Android Dedicated apps
Internal Battery - Alerts On Disconnect
3G Enabled on the AT&T Network
Optional Y-cable available for Covert Installation
View Live Trac System Demo
---
Questions? Call Us: (888) 544-0494
---
CNET REVIEWS THE LIVE TRAC EZ

CNET GIVES THE LIVE TRAC EZ FOUR OUT OF FIVE STARS!
Another Online Review of The Live Trac EZ:

Customer Product Reviews:
Have A Question About "Live Trac EZ" ?
Please enter your contact information so we can respond to your question
3 Previous Questions
GPS
TRACKING FOR VEHICLES, CARS & AUTOS
PROFESSIONAL
& PERSONAL GPS TRACKING
GPS
TRACKING FEATURES & BENEFITS