Mobile Alarm GPS Locater

DEWALT DS600 MOBILELOCK
DS600 Device OverView
Mobilelock is a completely self-contained battery powered wireless GPS Tracker with built-in security system ideal for monitoring remote assets. 7 built-in sensors can be selected and customized through a secure website and alarm notifications can be sent out to an unlimited number of people by email, text or phone call. Cellular assisted GPS technology provides location of assets indoors or out.

The DS600 is a versatile GPS alarm system that you can use to protect and even recover your own personal property. Toy trailers, boats, jet-skis, motorcycles, just about any piece of property can be protected with a DeWalt DS600 Mobilelock. The system will not only alert you when your property is tampered with or stolen, but now you can locate it and increase your chances of recovering it.

The DS600 MOBILELOCK has a built-in Bluetooth radio that can be enabled through the online account and proprietary Bluetooth sensors can be paired to it. Bluetooth (BLE) sensors include indoor motion (DS610), door (DS620) and cable lock (DS630). A total of 10 BLE sensors can be paired to one DS600 MOBILELOCK and can be placed up to 100 feet away providing full area protection.

DS600 GPS Tracking Technology
The DS600 provides the most accurate aGPS (cellular assisted GPS) location capability, even in impaired environments such as in a building, connex box, trailer, garage, vehicle and within closed packages -all without the use of external antennas.

When you request a locate from a MOBILELOCK it turns on its GPS antenna and then transmits the raw data it receives to one of several PDE's (Positioning Determining Entity) within the Cellular network. This allows MOBILELOCK to work where other GPS devices fail.

Simple Locates - locate on demand, when you need to know where your asset is now
Tracking Sessions - Set interval and duration tracking
Smart Tracking - Configure alarm detection to trigger tracking/geo fence alerts
Geo-fencing - Set an unlimited number of geozones
Mobilelock DS600 Alarm Features:
The DS600 has 7 internal sensors and capability for up to 10 Bluetooth LE sensors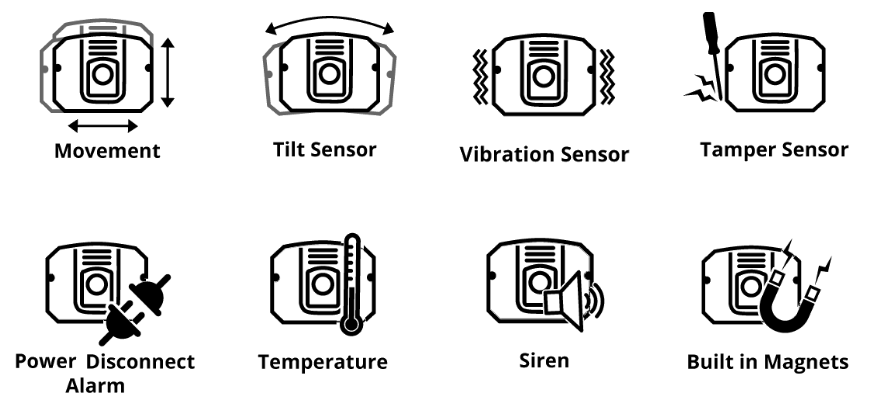 Movement - Built-in accelerometer detects motion
Tilt Sensor - tilt alerts. Highly configurable.
Vibration Sensor - 7 levels of adjustability.
Tamper Sensor - Plunge tamper on back
Power Disconnect - Alarms when disconnected from wall charger
temperature - High/Low Temp alarm 0°F-122°F
Siren - Multiple alert functions, including silent alerts
The DS600 can be attached to any metal surface with its built-in magnetic mounts, or screwed into with pre-drilled mounting holes.
Arm and Disarm Device
Just like any other security system Mobilelock must be armed and disarmed to report alarms. Once you've selected and customized your sensor settings and chosen which sensors to use, you can arm and disarm them from any web enabled device, via SMS or by setting up a Arm/Disarn schedule online.
Wireless Bluetooth Sensors:
BLE Motion Sensor - Indoor
BLE Wireless Door Sensor
BLE Cable lock
Motion Sensor: Passive Infrared indoor motion detector. Up to 50' out and 120 degrees right to left of the sensor. Advanced digital scanning recognizes human movements and size to reduce false alarms
Wireless Door Sensor: Receive alerts when door opens. Uses magnetic reed switch the device transmits a door open alarm when the magnet is moved more than 3/8" away. Terminal block inside also allows any other normally closed sensor to be wired in.
Cable Lock: Wrap around and secure high value assets with the outdoor weatherproof cable lock. 12 foot stainless steel braided cable wrapped in a heavy duty urethene jacket provides durability and flexibility in all weather conditions. Alert is sent immediately to the DS600 when the cable is cut or the lock is open. 2', 6', 12' and 24' replacement cables are available. Protect ladders, generators and gate entrances.
Battery:
Internal Li-ion
2x Sanyo 18650
Charge Time: 5 hrs
Runtime: 30+ days, 6 months airplane mode
Low Battery Alerts
Full Charge Battery Alerts
Charger Removed Alert
The Ds600 can also be left on charge either on 120 VAC or 12/24 volt connection.
Web Based Tracking System
All Mobilelock devices are run through a secure web portal. LiveViewGPS will set up and send you your login details. You can access the site through any computer or smart phone and you can set up an unlimited number of users for your account.

Grouping can be set up to effectively manage your account. You can have as many devices as you want in yur account, but to keep better control of them, they can be grouped. You can customize sensor, speaker and battery alert settings for an entire group as well as setting up Arm/Disarm schedules for the group.
Cellular - Verizon Coverage:
Commands that are sent to a Mobilelock from your online account use a secure form of SMS text messaging and confirmations and alarms from the device use 1xRTT data. Your monthly service includes unlimited nationwide digital data service on the Verizon Wireless network with no roaming charges.

Check the Verizon Wireless Coverage Map. 3G data or better is required.

What Is The DeWalt DS600's Monthly Cost?
There is a basic monthly charge of $19.95 per month, this includes an unlimited number of web and phone remote configurations, as well as alarm phone alerts. There are also 5 GPS locates included every month. Unused locates rollover to the next month, additional locates are .15 cents per locate. Additional locates can be purchased directly in the web portal.
Dimensions:
4.4" x 3.5" x 1.2"
Customer Product Reviews:
Have A Question About "DeWalt DS600 Mobile Lock With GPS Locate | LiveViewGPS - 1-888-544-0494" ?
Please enter your contact information so we can respond to your question
1 Previous Questions
GPS
TRACKING FOR VEHICLES, CARS & AUTOS
PROFESSIONAL
& PERSONAL GPS TRACKING
GPS
TRACKING FEATURES & BENEFITS